Although it's convenient and quick to eat at a truck stop or a fast-food restaurant, eating out can get old quickly and definitely be hard on your wallet. If you're tired of spending your hard-earned money on gas station food and fast-food joints, change your ways and start cooking on the road. We've compiled a list of cooking equipment, easy-to-prep foods, and simple meals that our K&B drivers can use for cooking in a semi-truck.
Essential Cooking Equipment for Truck Drivers
Luckily, when you drive for K&B Transportation, our top-of-the-line Freightliner Cascadia trucks include both a refrigerator and a 2,000-watt PowerDrive Inverter to plug in your cooking equipment! K&B has set you up to succeed. There are however a few additional items you'll want to pick up to complete your in-cab kitchen.
We suggest these 3 kitchen tools for cooking in a semi-truck:
1. Tried and True Crockpot
Crockpots are the perfect appliance for truckers because they are convenient, inexpensive, and available in small sizes to fit restricted storage. Make sure you choose a crockpot with a locking lid to help reduce any spills.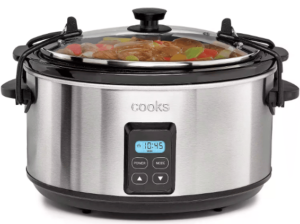 Nothing is sweeter than coming home to a delicious, ready-to-eat meal after a hard day of driving. For OTR truck drivers who don't have the time to make a freshly cooked meal for lunch or dinner, a crockpot is a terrific option. Before you begin driving, you can just add your items to the crockpot, and by the end of the day, your dinner will be hot and ready! Check out these simple crock pot recipes to get started.
2. Quick and Easy Microwave
Microwaves are another essential appliance for on-the-road cooking. Meals can be prepared quickly and easily in a microwave. This appliance is an obvious choice and is excellent for heating up a snack, cooking frozen meals, and reheating leftovers.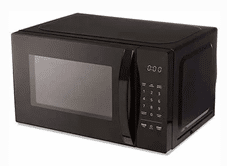 There are several quick and simple cooking choices available with microwaves. Additionally, there are many different microwave alternatives available, making it simple to select one that meets your space and power needs.
3. Versatile Electric George Foreman Grill
There are many types and sizes of George Foreman grills and they are all easy to use, easy to clean, and they will work with your 2,000-watt PowerDrive!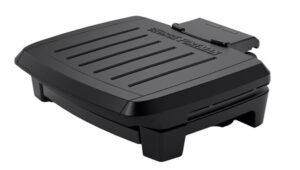 In the video below, James shows how he uses his George Foreman to grill a steak and veggies.
Even though the grilling plates on George Foreman Grills are non-stick and simple to clean, there's an even easier clean-up solution. You can place aluminum foil on the grilling plates before you start cooking to keep your grill clean.
Other helpful cooking tools:
Cutting board: You can use a cutting board to prepare sandwiches or cut up your veggies! Very useful and easy to store.
Plastic cutlery and paper plates: Also a major help with clean-up! Paper plates and plasticware are the best to avoid the headache of washing dishes.
Antibacterial wipes: Cleaning up your in-cab kitchen is highly important to stay healthy and especially important when you're preparing meat or chicken. Stay healthy and keep your cab clean by using antibacterial wipes to clean up messes and wipe down commonly touched surfaces.
Aluminum foil: As mentioned above, you can use tin foil to line your George Foreman grill to minimize your clean-up.
Slow Cooker Liners: This makes cooking in a crockpot way easier! These liners make clean-up crazy simple, just throw away the bag liner!
Stock Up on Easy-to-Prep Food Items
There are many foods available that don't take a lot of preparation but still hits the spot including steak, potatoes, chicken breast, asparagus, cheese, bread, and carrots. Additionally, those items are healthy for you in moderation. Start by making a list of the meals you'll want to eat and the ingredients you'll need for each before you head to the grocery store. You'll want to keep in mind that you are shopping for smaller storage and refrigerator space than at home.
A step above "easy-to-prep" is to consider simple meal prep ideas. Cooking in a semi-truck may not sound attractive to you or you simply don't trust yourself to muster the energy and willpower to prepare your own meals when the time comes. Meal preparation only takes a few hours of your time but produces incredible benefits.
After preparing your meals, you can store them in compact, reusable containers that fit neatly within your mini fridge. Not only do reusable storage containers allow you to store meal prep food supplies, but having reusable containers also makes it easier to store food and reheat leftovers. Since you have a limited amount of space, stackable or nestable food containers are extremely helpful.
Simple Meal Ideas
It can be challenging to come up with quick, tasty, and healthful meals if you don't cook frequently. Variety might also be challenging to come up with. If you're lacking in motivation, think about checking out these recipes for cooking in a semi-truck or preparing the following simple meal staples:
Breakfast
Omelets/eggs (microwave or use a George Foreman)
Oatmeal
Pancakes with pancake mix
Bacon or sausage
Lunch
Sandwich and/or salad
Leftovers
Pizza (microwavable)
Mac and cheese (crockpot)
Grilled cheese (George Foreman)
Dinner
Stew or pot roast
Burgers or hotdogs
Steak or chicken
Soup
BBQ pork
Obviously, you can't forget about sides and snacks. Fruits, vegetables, pasta, or salad are all tasty and easy options to add to your meal staples above. For an after-dinner treat, pack a pint of ice cream or freeze a few candy bars if you have a sweet tooth.
You don't have to eat poorly just because you're a truck driver. Use the info above and cooking in a tractor-trailer can be simple and enjoyable.
If you're looking to join the K&B Transportation team, give us a call at 866-340-0703 to speak with our recruiting team.